We've got some wonderful news for all our great brainiacs too! 
First off, we've got new co-hostees to SHOW OFF the Blog Party:
Please stop by their blogs and party with them! They're all cool chicas 🙂
Let's do some Showing Off! My co-hostees from last week, Jules, Brittany, Tiffany, and myself wanted to celebrate mother's this weekend:
Find out why Amy's blog name is strange
Find some amazing gift ideas for mom!
Let's teach our kids some responsibility
Hey Moms, it's our weekend! Let's feel good about ourselves!
Congratulations to our featured bloggers! Grab a button and let everyone know you were just Shown Off: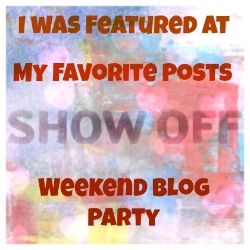 In the meantime I wanted to share a couple more things with you too. First off, check this out and watch for further announcements within the next few weeks:
Come back to The Wondering Brain tomorrow and enter a Conscious Box Giveaway! My co-hostees and I are partnering up at 5 pm for a chance to win a free box. Start entering tomorrow with any of us! 




Are you ready to party? Before you begin, remember these simple rules:
Link up your favorite posts. It doesn't matter which one, just make sure it's family friendly! 

Follow your host (that's me! The Wondering Brain)

Leave a comment if you'd like them to follow you too

Visit at least 3 other bloggers 

Show them your blogger love too if you'd like them to follow 

Remember, it's not a party unless you mingle, so mingle around and make some friends! 

Take our beautiful badge and proudly display it on your side bar to encourage others to party with us!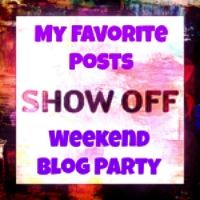 Interested in co-hosting The SHOW OFF Weekend Blog Party next month? We have spots available for June! $4.00 to reserve your spot for a month and a discounted rate for ad space! We won't disappoint. I promise! Please email for more information: 
thewonderingbrain@gmail.com